It didn't all start out European cat food and Scandinavian veterinarians.
Before they became internationally famous diplomats of fuzz, they were street kitties. Both Walter and Olive were rescued from the Castaic Animal Shelter in California. We adopted them long before any of us ever knew that we'd become full-time travelers.
Walter the Cat

Olive Woodruff
Walter was adopted when Mr. Payton passed away
He was a diabetic cat and after giving him injections twice a day for eight years, his body finally had enough. That left Missy (or Mushu as we called her) alone. She was 17 years old and after a couple of months of her being alone when we had to go to work, we thought it would be better for her if she had some company. Mushu got along fine with Walter but she was an older cat and she only stayed with us for a little more than a year after Payton died. We were heartbroken, and it was months before we were ready to adopt a friend for Walter so that he wouldn't be alone all day. We always feel cats do better in pairs and Olive seemed close to the same age as Walter. They accepted each other without too much hissing and they've been family ever since.
Walter's Story
Walter was not happy. People scare him and here he was in a cage, in a place where strange new people peeked into his cage throughout the day. He had his back turned and was doing everything he could, to hide his eyes from curious families looking for the perfect new addition to their family. He wanted no part of it.
There were so many cats there, and we wanted to adopt them all, but we could only choose one.
Her allergies were also going crazy at this point, so unable to breathe, she finally decided to wait outside while I picked out our new furry family member. I picked him because he seemed like he needed someone to give him a chance. The other cats were doing everything they could to look cute and get adopted, so it seemed more likely that they eventually would, but Walter needed me.
We took him straight to our vet and got him checked out, and after a quick visit, we took Walter home.
We both fell in love with him immediately and he quickly learned to trust us. Walter is a very sensitive cat that needs several hugs throughout the day. He will climb up to your shoulder and hug you for as long as you let him. He's a typical cat in many ways but we're his family and he needs us. He even loves Olive most days as long as she understands that he's in charge. Olive doesn't care who's in charge, so it works out fine.
Olive's Story
Olive was working it! She locked her green eyes on Mimi and started purring while she went through the "look at what a cute cat I am" routine. She was incredibly friendly and Mimi and I both loved her right away. We started the adoption process that day, but she hadn't been vaccinated and spayed yet, as was California's policy when adopting from shelters. We were told to come back in a couple of days to pick her up.
A couple of days later we get a call from the shelter saying that Olive hadn't been spayed yet because she had a respiratory infection. Did they ask if we still wanted her? The question irritated me, and I told them that we were on our way to pick her up and that we would have our own vet handle everything.
We took Olive straight there from the shelter and had her checked out.
As it turned out, she not only had a respiratory infection, but she was pregnant. To make things worse, the shelter hadn't known that she was pregnant, so they had vaccinated her, causing harm to the unborn babies. It was recommended that the babies be aborted, and that Olive be spayed. An antibiotic was given to her and after an overnight stay at the vet, she was ready to come home.
We kept her separate from Walter until the respiratory problem cleared up and they've been friends ever since. Mainly from lack of options I suspect but they do play together occasionally. I take that as a good sign. Olive has been the most gentle, loving cat you could ever hope for. She has almost dog like qualities in the way she comes when you call her and her overall easy-going nature.
Crossing Borders
They don't like the plane ride or airport security very much, but they love exploring new apartments. It was on this journey that we first discovered how much the cats love stairs. We had always been in single story apartments but when we moved to Limassol, Cyprus, we rented a condo with a loft. There was a spiral staircase leading up to the bedroom in the loft that the cats claimed and never gave back.
From that point on, we started making it a point to look for places with lofts or stairs of any kind that they could play on. We found a place in Lisbon with a loft that I used for a studio area to record music. The cats claimed it and spent most of their time looking down at us from the loft.
In Belgrade, we had three levels to our apartment.
The bathroom area, washing machine, and walk-in storage closet where we kept the litterbox was downstairs. The middle level was the living room, kitchen, and dining room. The top level was a bedroom in arranged in a U-shaped loft area that surrounded the living room below. It was the perfect design for the cats, since they could look down on us from any direction they chose. Once again, the cats claimed the spiral stairs and entire upstairs area.
Traveling Together, Two Humans And Two Cats
It's not the ideal situation for any animal that likes stability. Cats crave a stable environment and we do the best we can to provide that with our lifestyle. They're the main reason why we stay so long in each place instead of moving around more. They're the reason we select nonstop flights if possible or at minimum, flights with the shortest duration. They're the reason I've packed a (new and unused) litter-box and cat litter in my luggage instead of clothes, when I knew we'd arrive to a new country after the pet stores had closed.
We spoil them as much as we can, and they reward us with all of the love a cat can give.
When it's time to move, they are the last things packed to go. When we get to the new place, they are the first things unpacked. They have a litter box, food, water, and their cat toys ready for them minutes after being released. They've learned the drill and seem to have adapted well to moving days. We had considered trying to find them a home before we left California, but they are our family. They trust us to take care of them and we could never have left them behind.
We're thankful for the cats because it changed our approach to traveling.
Instead of running through each country, seeing the sights then moving on, we adapt. We have to live at the mercy of local schedules and traditions. Dinner is early and short in Denmark but in Spain, we ate dinner very late and it spanned hours. In Serbia, we learned that waking up early is pointless, since nothing is open. Even the earliest coffee house/cafe doesn't open until eight am and most of the rest open slowly, around nine…ish.
The cats made us Temporary Residents, instead of just tourists.
They are our family and it redefines what home means to us. We still work too much, just like we did in California. We still cook dinner at night and watch a movie while the cats sleep on our laps. The only difference is that, in our time off, we're in a different neighborhood that needs exploring, every 3 months. For the cats, it means different windows, maybe a patio or balcony. Stairs if they're lucky. But not much changes. They still have their humans and they never go hungry. Walter gets his hugs and Olive is just Olive.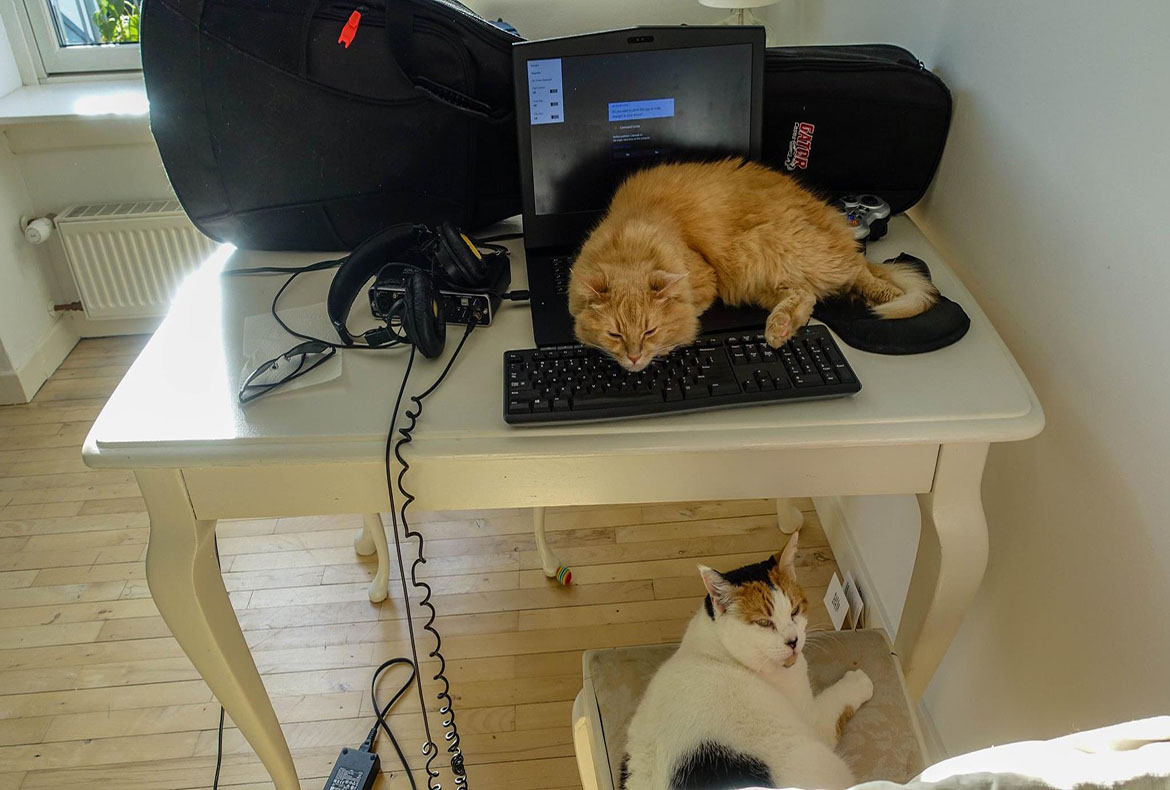 ---
---