If you were to ask Mimi what the worlds most perfect food is, she wouldn't hesitate to answer. Macarons, hands down.
Ever since our first trip to Paris in 2012, she has been hooked. It's almost strange because she isn't a big fan of sweets in general, that's more my thing. But there's something about macarons that touched her soul. So, when we decided to visit the Winter Markets in Colmar and Strasbourg, we added an extra couple of days in Paris. We wanted to go to Le Foodist Cooking School to learn this revered art form.
We arrived at Le Foodist along with three other couples all intent on learning how to make macarons.
Everyone introduced themselves as our instructor Amanda placed us each at a work station. We started with each couple being given a different flavored filling to make. There was vanilla crème, chocolate, pistachio, and our flavor lemon. This was to be the first step of the process since the filling has to cool for a bit. After mixing the ingredients together in a bowl, we brought it over to another area. Placing the mixture on a burner to heat up, we whipped the filling into a meringue. It was a very precise process. We used temperature probes to get the exact desired heat before adding it all together in the mixer.
Once the filling was complete and put into the refrigerator to cool, we started making the cookie part or outer shell of the macaron.
We sifted the flour and mixed everything together with a powder that would determine the color of the shell. The powder didn't start off looking anything like what the final color of the macaron would be, and it was kind of amazing how little of the powder was needed. Amanda used a tiny little spoon for measuring it and even then, only filled it partway to color what would eventually turn out to be around eighty shells.
The brightly colored shell batter was spooned into a piping bag that allowed us to carefully squeeze the mixture onto a cookie sheet.
Since we were all new to the process, Amanda had placed a cheat sheet of sorts to help us get the correct amount of batter on the cookie sheet. It was a template to help ensure that the outer shells were all of a similarly uniform size. There is a technique to the way you squeeze the batter out so the shells are flat and it took some practice to get it right.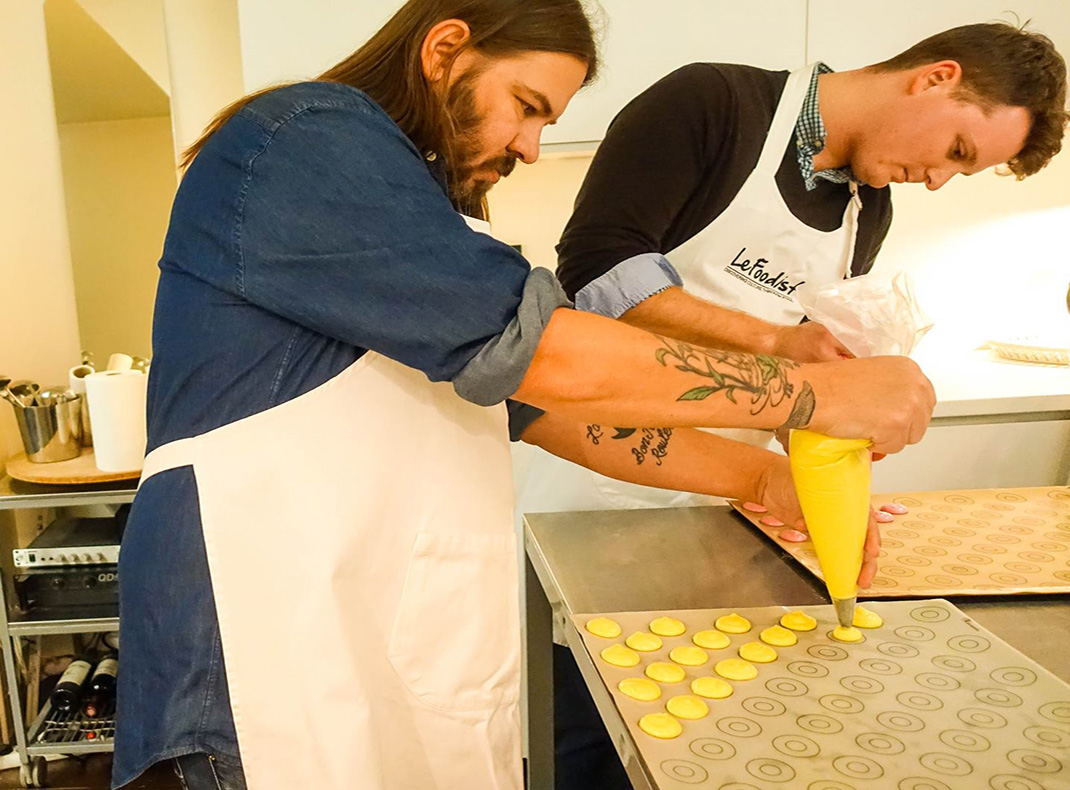 Once our cookie sheet was filled, Amanda had a surprise for us.
She took all of the different colored left-over batter and put them into another piping bag. This allowed us to make multi-colored shells. She had the class pick out which colors would be mixed. We used this new blend to create two different types of colorful shells. They looked much fancier than the single colored shells that we had already created.
When all of the batter had been used and the cookie sheets had been filled, the shells were placed into the oven for twelve minutes.
After they were done, everything was set out to cool. They had to sit long enough to remove the shells without them sticking to the cookie sheet. We paired up the freshly baked shells into similar sizes and placed them on a separate tray. The flavored filling that we had made earlier was put into piping bags and we squeezed it onto a shell. When that was done, we capped each macaron with the matched up other side of the macaron.
The finished macarons were placed onto a serving tray and everyone adjourned to a dining room table in another room.
The macarons were laid out on their serving trays among vases with big beautiful roses that decorated the table. Amanda brought coffee and tea for everyone while we sat around the table. The group sat and talked while enjoying the rewards of our efforts. They were delicious, and we all felt a new found respect for how difficult the process was.
Mimi and I have enjoyed macaron in several countries. While I don't want to say that we took them for granted, we certainly had never realized how much work goes into making such a small but tasty treat. We've always appreciated how delicious they were and the variety of different flavors. But the experience of making them ourselves will forever add to our appreciation of what we consider to be the world's most perfect dessert.