We talked to the concierge at our hotel to ask about booking a felucca ride on the world famous Nile River.
He seemed to understand what we wanted instantly, and in his friendly hotel concierge manner, he made a phone call. He spoke in Egyptian for a while to the person on the other end of the phone, no doubt extolling our virtues in a valiant attempt to solicit the best possible price for us. (If only there were a sarcasm font)
There is a network of communication in Egypt that works faster than the internet.
It may start with a phone call, but it feels like everything found in Egypt is because of a guy who knows another guy, who knows another guy who can get that exact thing that you want within the hour.
We normally book everything ourselves, but it's complicated to know what's legit in Egypt so it's safer to assume that nothing is. And most of the time you'd be right. The hustle is a way of life there. It's nothing personal, it's just the way it's always been done. So, in this case, we felt it would be much easier to ask the hotel concierge to book the felucca for us.

He hung up the phone and smiled at us. Our "private" felucca ride was all set.
You have to be very specific when you book things in Egypt. If you aren't extremely clear about what you want, and I mean to the point of ridiculous, you could easily end up with something more expensive or completely different than what you had in mind. In this case, I didn't even know that a private felucca was an option. It was probably at a higher cost than the normal tour, but it wasn't unreasonably priced. I wasn't going to complain because I felt it had worked out better than I had hoped. Private sounded perfect for a romantic sunset cruise on the Nile with Mimi.

Excited to be going on a felucca ride in a few hours, we decided that to grab some lunch and wine before we set sail.
We had the romantic images of the historic felucca, wooden sailboats from ancient Egyptian and Hollywood movies sailing through our minds. Their sails billowing out while the sun set into the glittering Nile. We talked about how excited we were all through lunch. The food was excellent, the wine was delicious, and we could have stayed much longer. But we were ready for our "private felucca sunset cruise."
When we arrived at the dock we were supposed to meet at, I saw a man on one of the long white neon adorned party boats that we had seen cruising the Nile. I asked him if this was the right spot for the feluccas, knowing there would be a language barrier. Since my Egyptian is terrible, I had asked in English.
He responded, "Private? Private felucca? It's here. It's here." As he enthusiastically motioned us onto his boat.
Felucca's still exist in the way that we had imagined.
We had seen them sailing on the Nile already. However, they are far less common than the neon monstrosities that they also now call a felucca. And right to your face too. This was our boat. This was our very own private neon Nile dance party for two. It was not what we had pictured. Turning to look at each other it took about a second before we both said, "Screw it. Let's go. It's still the Nile."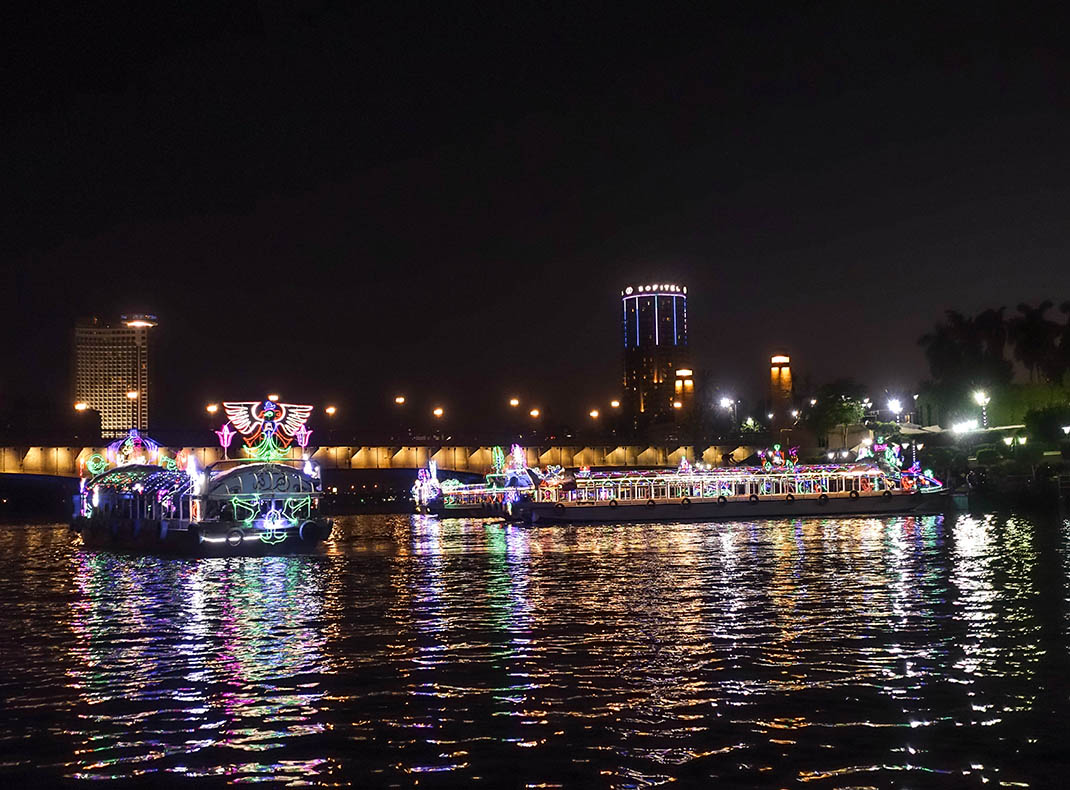 Neon on the Nile
We got onboard our neon love boat and picked two of the seats near the front. This boat easily could have seated twenty people, but we had it all to ourselves. We pulled away from the dock and the driver flipped the switches for the lights and music. Egyptian rappers mixed with hooks from the latest western hits come blaring out of the boat's speakers. The neon flared to life and the symbols of playing cards lit up everywhere. It looks exactly like what the Queen of Hearts' garden party in "Alice in Wonderland" would look like, if it were a floating strip club. Only the best for my love.
We're the kind of people who like making the best of a situation. The private sunset cruise on a felucca was far from what we had imagined but it didn't matter.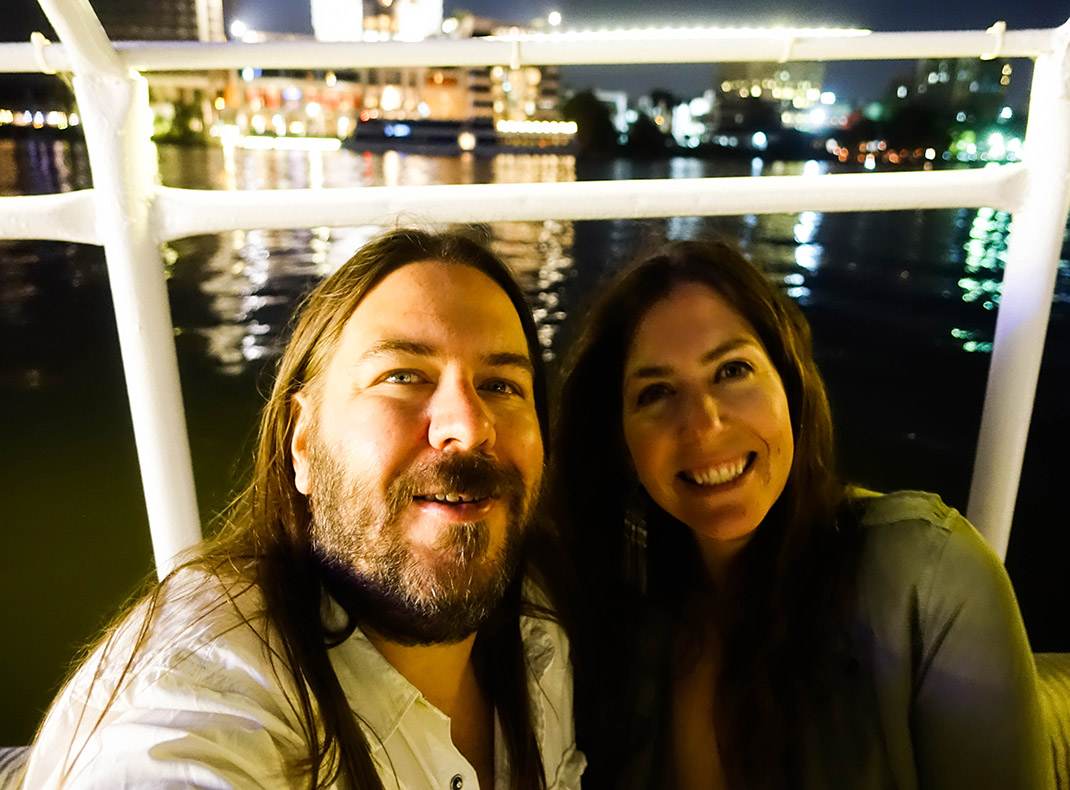 We still had a great time. When we looked out over the waters of the Nile, it didn't matter what kind of boat we were in. This was the Nile. It was a legend come to life and as big as standing inside the Great Pyramid. It was romantic and magical. We were still there with the person we most wanted to share it with. We were in Egypt.