Visiting the Pyramids of Giza was the most unforgettable moment that we've ever had in all of our travels.
Egypt is a place we've always held in awe, and that feeling has only grown for having visited. Pictures of the Pyramids and the Sphinx have mesmerized people for generations and we were no exception. For us, it only helped fuel our desire for adventure travel. So, when we found ourselves living in Istanbul with Cairo being only an hour flight away, it seemed that the chance had finally come.
Standing inside the Great Pyramid will be a moment forever etched in our brains.
Words are feeble when trying to describe it. There was a moment when we stopped, completely stunned, knowing that there was nothing to say. There was no need. We leaned against the stone walls and looked at each other with a look of grateful disbelief. This was something that we had always dreamed of, but never dared believe we would do.
We had been studying up on our Egyptian history for months before we flew to Cairo. But always eager to learn more, we hired an archeologist to take us around for the day.
Ahmed Kamal ElBestawy picked us up in his SUV and we headed out to the Giza plateau. He explained the importance of the Nile throughout history and how the two sides of the river represented life and death. He filled our heads with more knowledge than we could ever hope to remember, and we chimed in when he got to parts that we knew from our refresher reading. Ahmed is very proud of his country's history and I think it made him happy when we showed that we had studied up a bit.
The Giza Plateau Complex dates back five thousand years. It's made up of three large pyramids, several smaller "queen" pyramids, temples, cemeteries, causeways, and the Sphinx.
To see the Sphinx in person was a true "pinch me" moment. Ahmed told us about what historians knew for sure concerning its history. He also elaborated with what he believed about who built the Sphinx, and why. But the mysteries of the Sphinx have never been definitively solved, only adding to its mystique.
Pulling into the Giza plateau area, Ahmed stopped at one of the many military checkpoints we had seen throughout the city.
He told the guards that he was a guide, showed them his certification, and informed them that we were Australian tourists. He had explained to us that being Australian meant we'd have to answer fewer questions and we were fine with that. Passing through without trouble, Ahmed dropped us off in front of the Great Pyramid while he went to park his SUV. And that's when we became celebrities.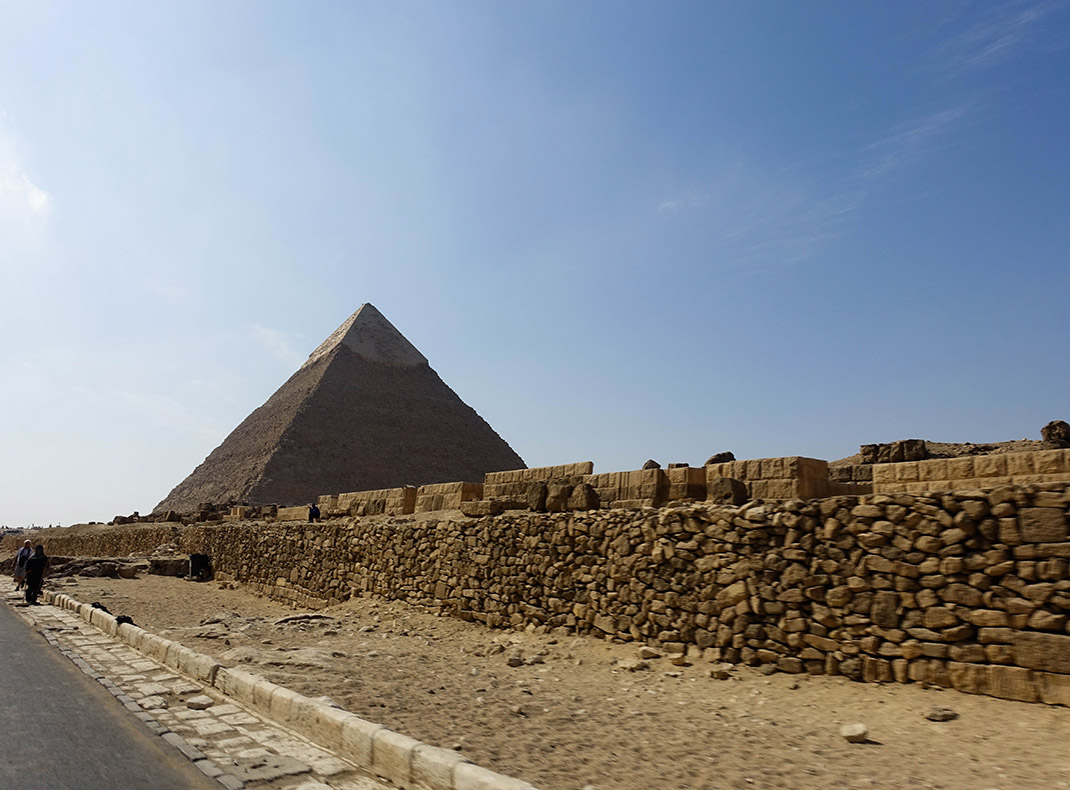 Ahmed had mentioned that we were visiting on a Friday, which is a common day for the people of Egypt to see the Pyramids for themselves.
Families from all over Egypt would come to spend the day roaming the Giza plateau. So, to say that we stood out would be an understatement. We were such a novelty that we were asked to take pictures with several families (which we did) before Ahmed found us and pulled us away from the growing crowd.
The Great Pyramid loomed before us. Humbling and awe-inspiring are the first two adjectives I think of when describing it.
The sheer size of it is the first thing that staggers you. Seeing it in pictures my whole life, I knew it would be big. But the enormity of this wonder has to be seen in person to be appreciated. The size of the blocks of stone and the craftsmanship are the next details you start to notice. My mind started to go over the theories of how the Pyramids were built and standing in front of it I had to admit, however, it was that they were built, it really was an engineering marvel. (Don't say, aliens. The Egyptian people hate that)

Climbing the steps to the entrance of the Great Pyramid didn't seem real.
We were giddy by the time we reached the entrance in the middle of the Pyramid. We passed through the security guards at the entrance and started down a passage cut through the huge blocks of stone. It felt like being inside of a cave, only it was a man-made cave of sorts. After walking about fifty feet in, we came to a slightly widened part of the passage and we needed a moment. We leaned up against the walls and just stared at each other with huge grins on our faces. "We're inside the Great Pyramid. We're inside the Great Pyramid." It kept repeating in my mind with an almost frantic feeling of excitement.
Deeper into the Tomb
Finally composed enough to continue on, we came to a long steep incline. We could see that it angled toward the top of the pyramid. The walls had become smoother and the ceiling was very low. There wasn't enough room to stand upright, so the long climb had to be done in a crouched position. We basically crawled our way up to the inner tomb where the sarcophagus rest. It's very narrow and people sometimes take turns waiting while others either climb or descend. On the occasion when two people have to pass each other on the climb, it can be very cozy as you squeeze past each other. It's not the type of place you want to be if you're claustrophobic.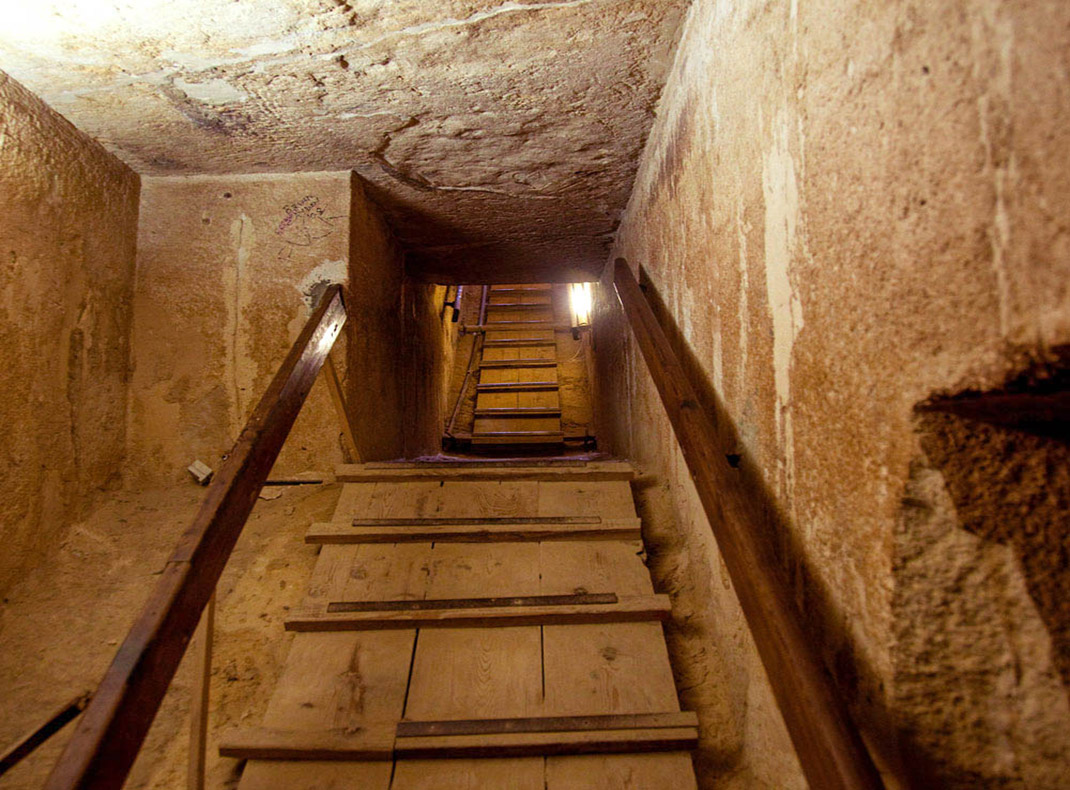 We climbed higher in the pyramid, euphoric and laughing.
We felt like kids playing explorer only here we were in real life climbing through a pyramids passageway. A passage that led to the tomb of an ancient Egyptian pharaoh named Khufu. No imagination necessary. It was an incredible moment. We climbed for quite a while it seemed, and eventually emerged into a large dimly lit burial chamber. The sarcophagus sat at the far end, but other than the other visitors it was the only thing in the room. We stood there for a while whispering to each other about how overwhelmed we were with the whole experience. We were standing in the Great Pyramid. The last and oldest of the Ancient Seven Wonders of the World.

I don't think Shakespeare could explain the feeling. I mean he could, and he'd probably do it beautifully. But not in a way that you could truly appreciate the magnitude of the experience.

There are moments in life that impact you so deeply, a highly skilled psychologist couldn't map all of the ripple effects. I felt different somehow. The climb back down was much quieter, each of us lost in our own thoughts. We definitely weren't in any rush to leave. There was still a lot to see and we had camels to ride. But it was a moment to be savored.
Climbing back down the pyramid we just kept looking at each other and smiling.
It had literally been a dream come true, and accomplishments like that can't be easily expressed. The whole trip to Egypt had left a lasting impression, but the Great Pyramid was the highlight. It had been the experience of a lifetime for us.