A giraffe leans out of the train window and screams "Woooooo!" at us while we walk down the street dressed as chickens.
Today promises to get a bit wild. Luckily, we showed up fully ready to embrace the chaos. As it turns out, that's the only way to properly prepare yourself for Carnival in Cologne.
We had both lived in New Orleans for a time before we met each other and we had both "found" Mardi Gras, as they say.
We've participated in the La Merce' Festival in Barcelona, a festival that can only be described as Mardi Gras meets the movie "Mad Max", then mixed with everything from a firefighter's nightmares. We've seen some things that probably shouldn't be discussed in polite company or at least in front of children. We were ready for anything and we did not leave disappointed.
It all started off calmly enough at a parade.
We bought a bottle of vodka and a couple of mixers to sip on while we enjoyed the passing floats. Massive amounts of candy and sweets are flying through the air toward us and even though we aren't trying very hard to catch any of it, we still end up with our fair share. We give almost everything we catch to the three little girls standing near us with their parents. They stare at us with wide, thankful eyes and seem mystified as to why two giant chickens would give them all of these sweets. We didn't mind though, we had vodka.
After the parade, we start wandering the streets hopping from bar to bar, sampling the specials from each establishment.
The song "Gasolina" by Daddy Yankee blares from a stand in front of one of the bars. With fond memories of the song from a trip to Cabo San Lucas, we move closer to the music and find ourselves doing the limbo with a group of guys dressed as bananas. After a short while of pathetic attempts and the sharp realization of how flexible we aren't, we moved along.
A short way down the road we see a dozen people dressed in pink chicken costumes.
Even though we are a more traditional looking white rooster and yellow chicken, we are welcomed as family, further proving the point that color doesn't matter. After many shots are taken and several rounds of chicken dancing take place, we move on. Carnival in Cologne is a very costume oriented affair. We meet people dressed as pigs, flower pots, strawberries, rabbits, sea anemones, and Slash, just to name a few. At one point a pirate drags us into a bar for more shots. We don't resist, so drinks were shared, and a good time was had by all.
At this point we've been drinking most of the day, so we decide to get some food before we head in for the night.
After all, there is still two more days of this. As we finish our meal we start talking to a couple from Sweden dressed as unicorns. They buy us shots, which would have been rude not to accept, and they invite us to go hang out at a dance club. We accept and end up dancing and doing shots until the early morning.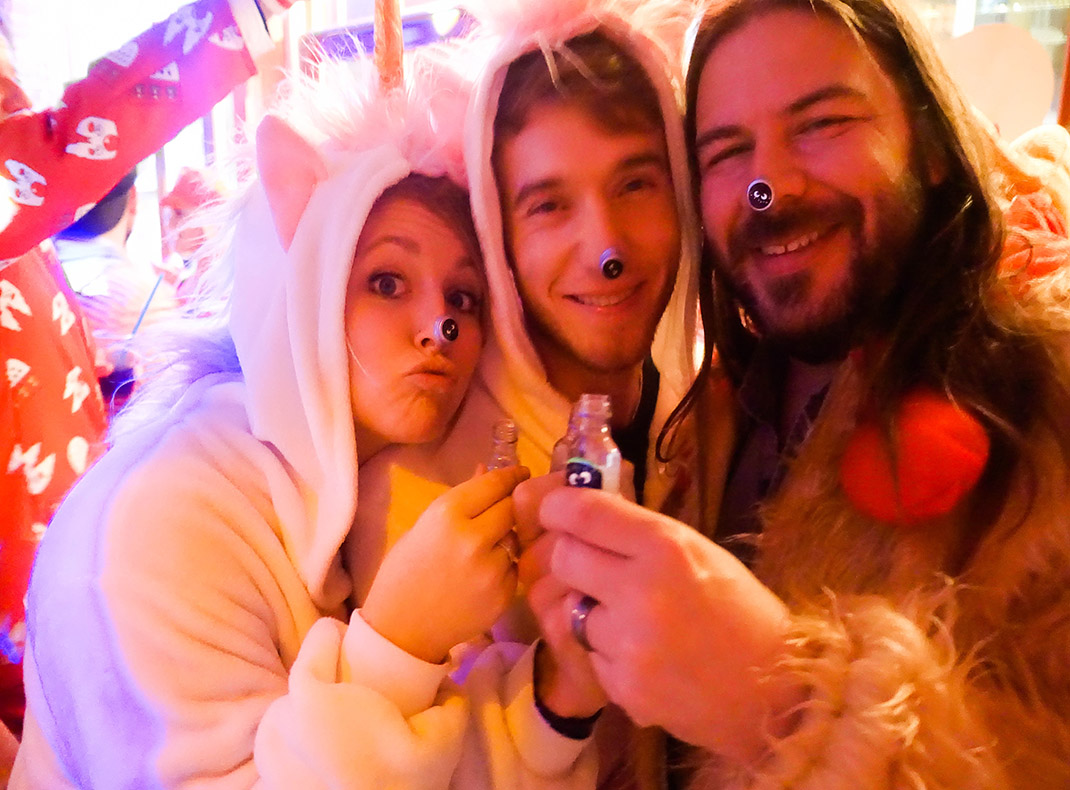 It was here that it was revealed that Mimi knew all of the words to the Salt and Pepper song, "Shoup."
You think you know somebody and then you get a days worth of shots in her and she turns into an MC. Despite her choice to memorize that song in particular, I was still impressed. But I've never been able to get her to sing it again since. So, the video is still pending.
Finally, exhausted and very intoxicated, we said goodnight to our new unicorn friends and headed back to our hotel. The next two days went along very similar lines with the only difference being that we started each day nursing a slight hangover. Carnival in Cologne was ruled a great success.