The "Theme Song" for James Bond plays while we speed away from the airport in the wooden boat taxi that we've seen in so many movies.
The funny thing is that this particular airport is not the airport we landed at. You see, there was some confusion… Mimi's birthday was approaching and while still living in California, I got the idea to take her to Venice for the landmark, milestone occasion.
Attention to Details. Matter.
Fast forward a month later and we're living in Barcelona. I decided to email the hotel to arrange a water taxi from the airport to the hotel and to have a bottle of champagne waiting in the room when we arrived. I must commend the Hotel L'Orologio for not only being a great hotel but also the tactful way that they handled my request by never once insinuated that I was an idiot. After confirming that it would their pleasure to have the champagne waiting in the room for us, they continued by informing me that it would be impossible to have a water taxi pick us up from the Treviso Airport as it was landlocked.
Venice, the Hard Way.
I wrote back, unnecessarily explaining how mentally deficient I was and asked if they could help me give Mimi the full "James Bond" entrance to Venice since I was clearly incapable of making even the simplest of arrangements. They were incredibly helpful in arranging for a car to pick us up at Treviso Airport and drive us to the Marco Polo Airport, where a water taxi would be waiting to bring us the rest of the way to the hotel.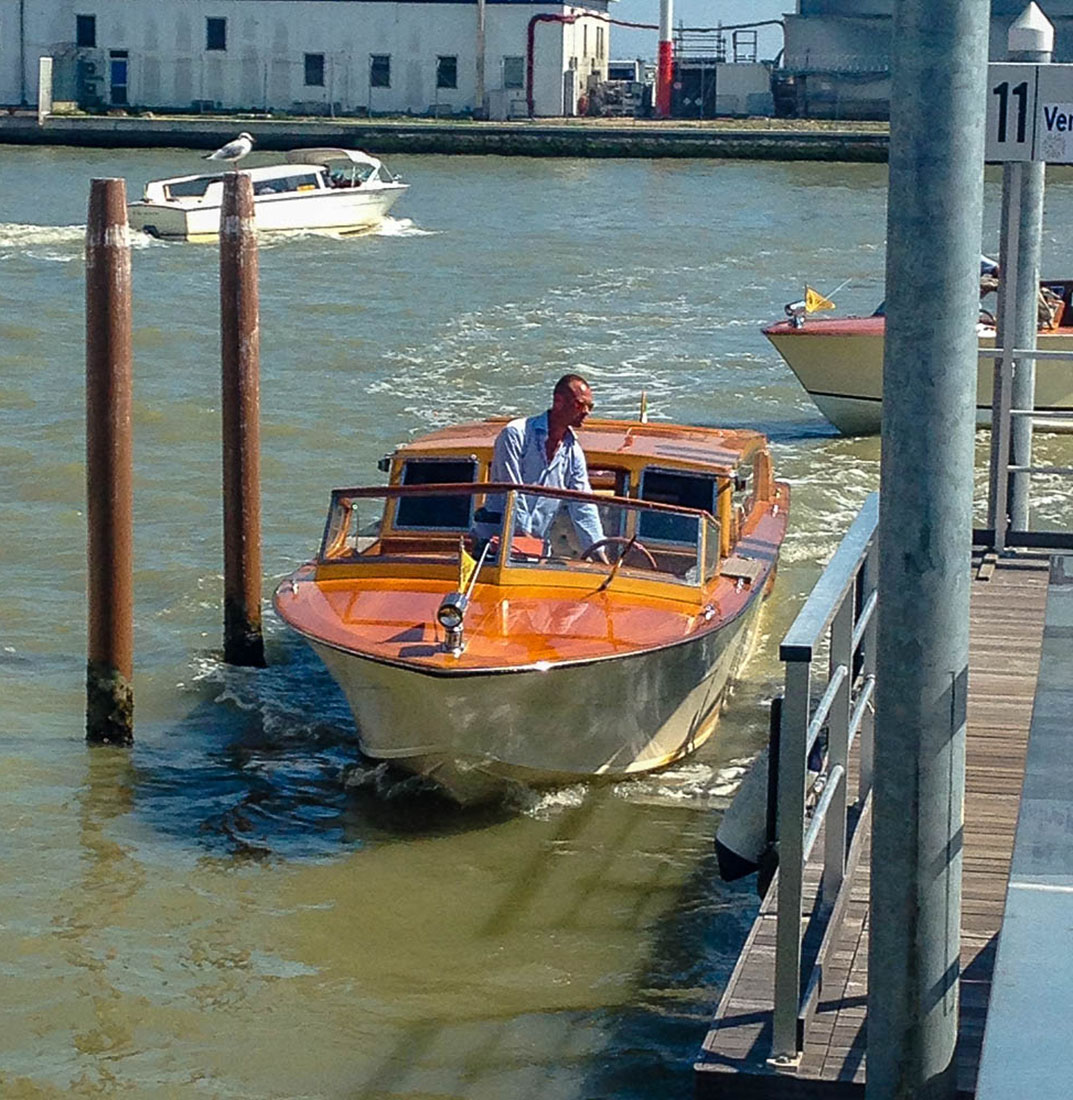 After finally checking into the hotel and meeting possibly the best reception staff at any hotel, we went up to the room to enjoy our champagne. We had a perfectly romantic view from our window of the gondolas as they passed the Galleria Giorgio Franchetti alla Ca d'Oro while we sipped from our glasses and got ready for the surprise I had for the evening.
Bond at the Opera.
Dressed to the nines, we caught another water taxi to Venice's famous Teatro La Fenice, for a performance of Vincenzo Bellini's "Norma." Mimi had no idea where we were going until we started climbing the stairs to the opera house. She was even more surprised when we were led to the box seats I had arranged for us. I really wanted her to have the full James Bond experience, so I considered having someone try to assassinate us but rightfully decided that would be going too far. Despite the lack of attempts on our lives we thoroughly enjoyed the opera.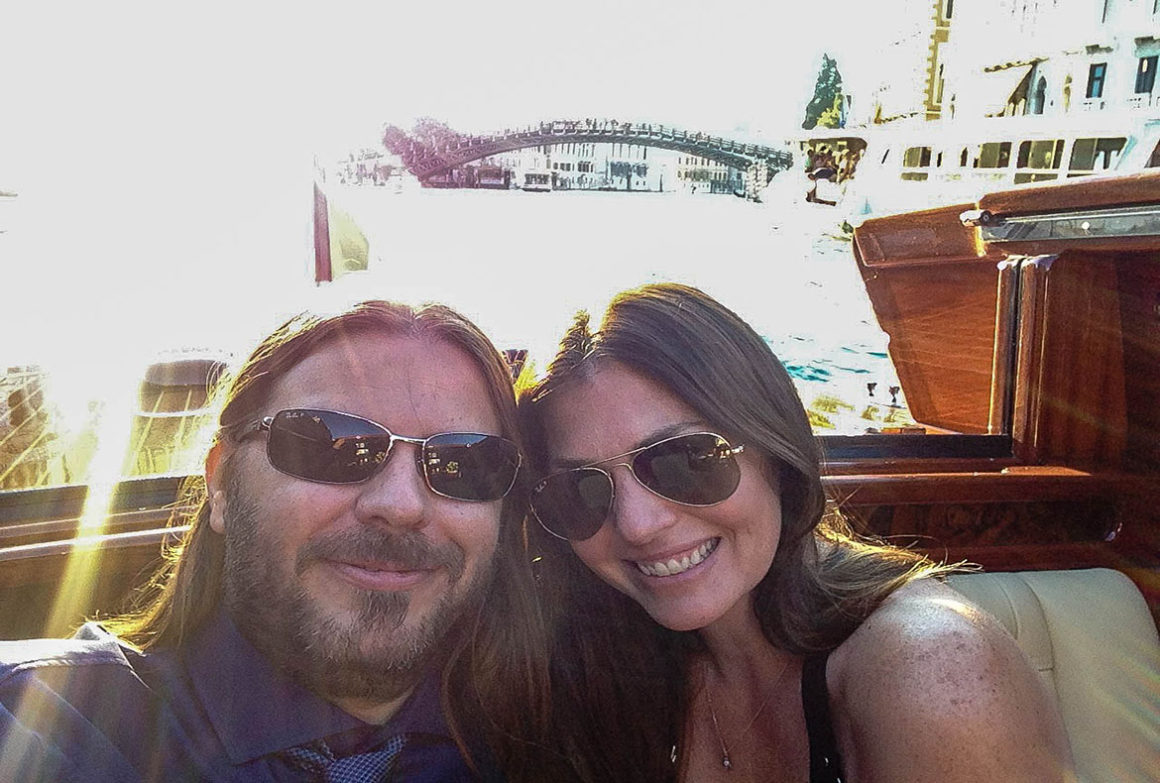 We stopped for a late dinner and a bottle of wine near the theatre.
It was technically the night before her birthday so we drank more wine at Taverna La Fenice, toasted her birthday at midnight, then walked back to the hotel. We only got lost a few times on the way back but since the scenery was Venice we didn't mind so much.
The next day we wandered aimlessly as is our tradition.
We saw all of the obligatory sights like Ponte di Rialto, Ponte degli Scalzi, and St. Mark's Square. We climbed the clock tower and took pictures in front of Doge's Palace and the Basilica. We basically did everything that you're supposed to do as a tourist. The somewhat sad fact about Venice is that tourist make up nearly the entire population of the city now, as almost everyone local has moved out of the canal area due to how expensive it is to live there. It's still a beautiful city to see and well worth it in that respect but don't visit thinking you're going to get a local, authentic view of Italy. Everything here is now for the benefit of tourism. Think of it as the most scenic museum you've ever been to and you'll be fine. It really is a beautiful place and worthy of every iconic postcard picture you've ever seen of it.
As night fell we found a nice restaurant, had a delicious dinner, and a few celebratory bottles of vino.
Yes, I said a few, as in 3. We met a fun German couple who was celebrating a landmark birthday as well. They seemed fun and our celebrations merged to some degree. It turned out they own a restaurant in Munich. So, we have a standing invitation for a great dinner when we finally make it there. Luckily, when the celebration wound down, we weren't that far from our hotel. We were able to make it back for the night without even getting lost.
Our plane didn't leave until very late the next day so we took advantage of the time we had by visiting Murano and Burano.
We had a private tour and demonstration of glass blowing in Murano at Ferro Lazzarini Vetreria Artistica. It wasn't booked that way. We just got lucky somehow. We sat amazed as a master glassblower created a horse from glass in mere minutes. If you ever want to feel unskilled this is the place to go. Watching what this guy can create in ten minutes will make you feel talentless. Like you should have been learning something useful instead of playing video games all day. This dent in our self-esteem was followed by a tour of their facility. The glass-work displayed here can only be described as works of art. There was a beautiful piece of a couple embracing that we really wanted to buy. But since everything we own has to fit in one suitcase, it didn't seem very practical. We ended up buying glass-blown jewelry that was both attractive, unique, and best of all didn't take up much space.
Random Water Taxi's
We eventually left Ferro Lazzarini, had some lunch, and grabbed a water-bus to Burano. The colorful homes and canals are a great backdrop for pictures. We walked around for a while, not buying any of the lace products that they are famous for until it was time to move on. There was still a lot of time until our flight home. So, we started taking random water buses. Of course, we really had no idea as to where they would take us, but that was part of the fun. We saw several islands that will remain nameless, mainly since we didn't know where we were. Somewhere in the Venice area is about as descriptive as we could be about these locations. It's not always necessary to know where you are to have fun. We spent the last part of our day lost by some people's standard but exploring by ours. We still caught our plane home, birthday mission accomplished.