There are two factors that led us to stay a few nights in a castle in Oberwesel, Germany.
The first is that I'm a big nerd and the second is that birthdays are a really big deal to Mimi. So, it was probably inevitable that we found ourselves booked at Castle Hotel Auf Schoenburg for my birthday that year. I sat in the back of the car we hired to drive us there, bouncing up and down like a kid who had eaten six bags of sugar. When it comes to castles, knights, and really anything medieval, I am a huge geek. It comes from a lifetime of reading too many science-fiction and fantasy novels mixed with a love of history.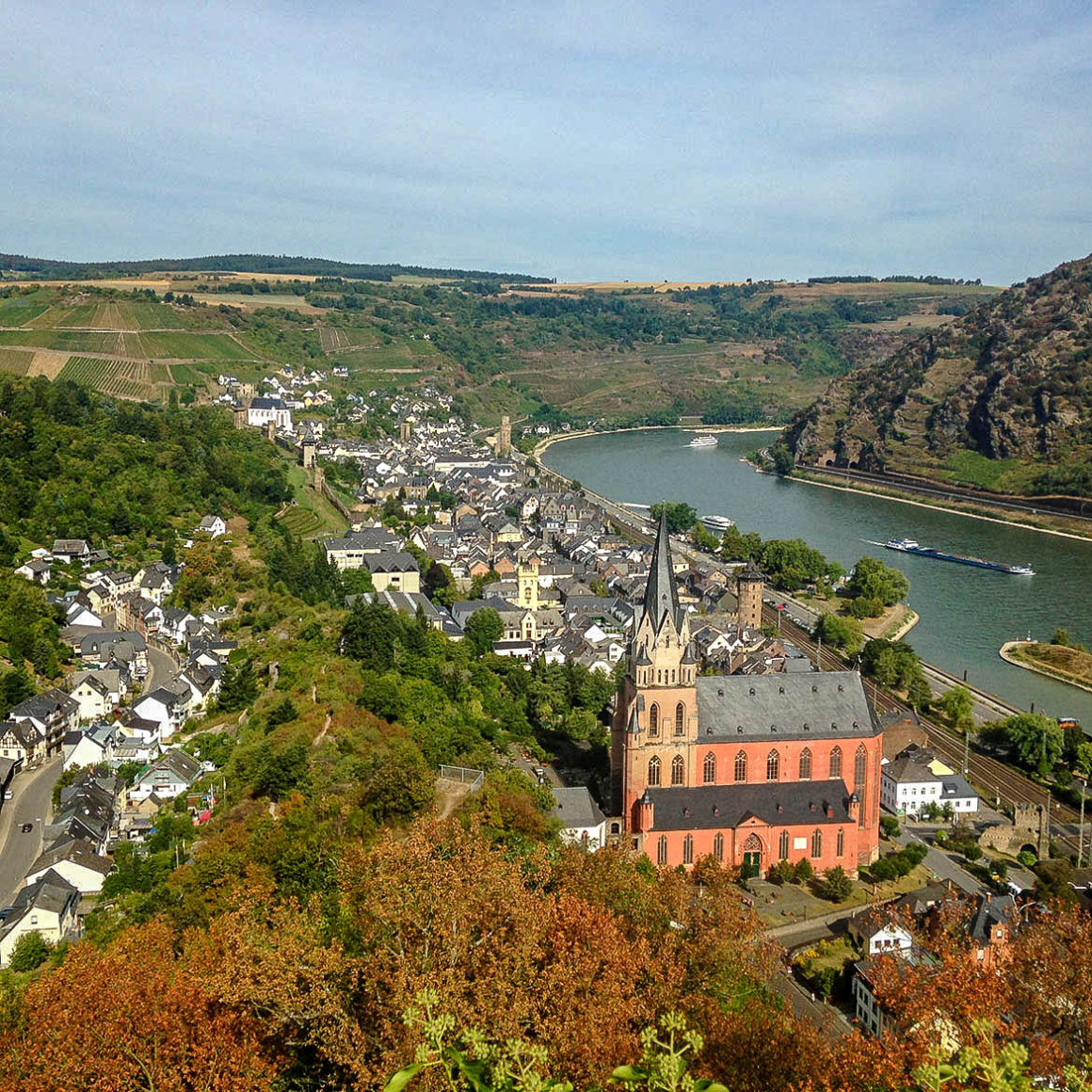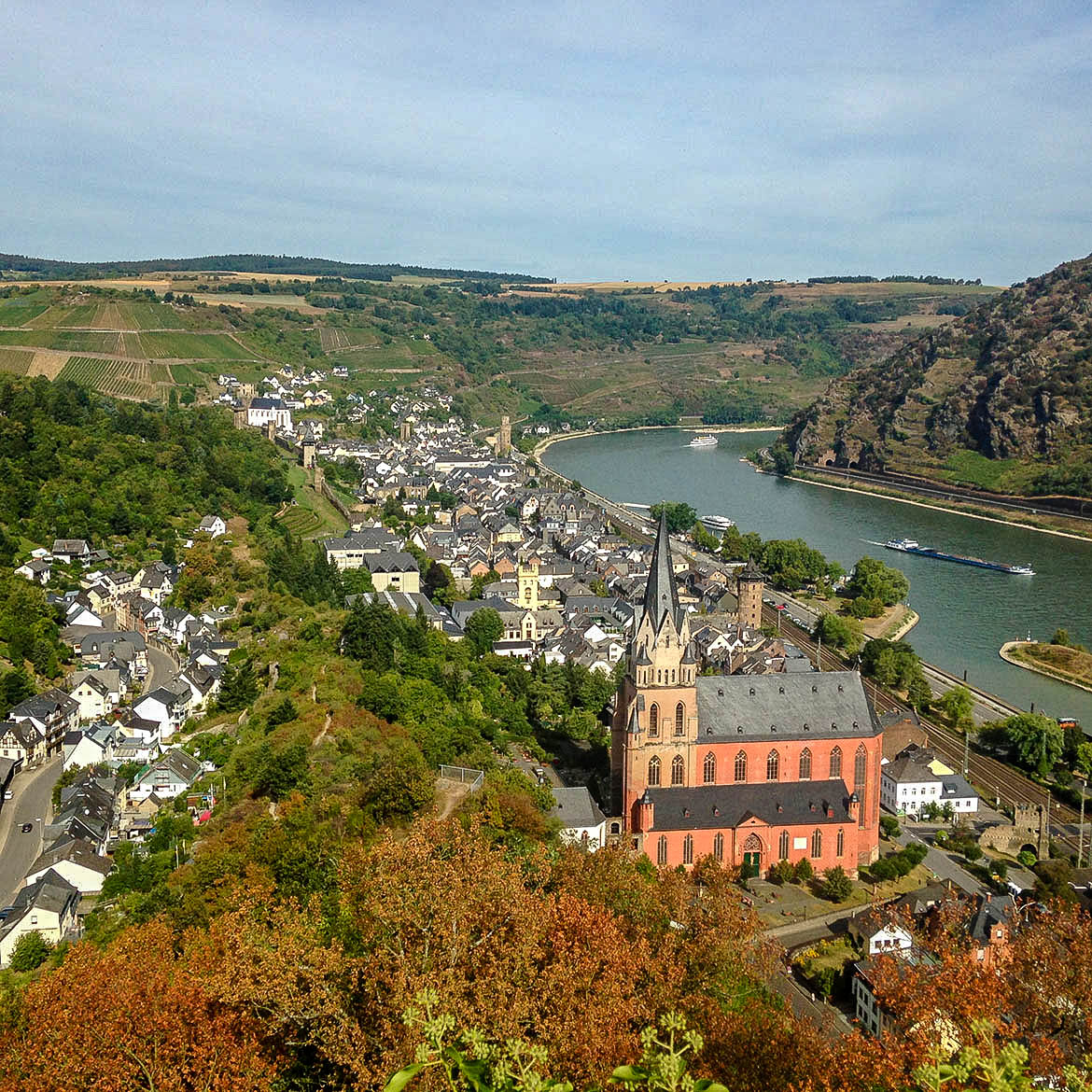 There are records of Auf Schoenburg Castle dating as far back as the year 1149 and it endured a long tumultuous history since that time.
It changed occupants many times and experienced periods of war, disuse, and even a fire that destroyed part of the castle. It was eventually restored and later became a hotel in 1957, only fifty-nine years sooner than we would find ourselves as one of its temporary residents. When Mimi plans a birthday celebration, she goes all out. I was basically going to fantasy camp for Dungeons and Dragons nerds.
We flew into Frankfurt and after a scenic drive through the countryside, we arrived at Auf Schoenburg Castle.
We were not disappointed. Most of the castle is composed of its original stonework, complete with parapets and tower. After checking in and making dinner reservations for the next nights birthday dinner, we dropped our bag off in our room. Mainly, so that I could geek out in the room for a few minutes, before we headed down to the town below.
The castle was impressive to say the least. It's perched on top of a hill overlooking the town of Oberwesel and part of the Rhine river.
The gardens that surround the castle are famous to a point that even locals and people not staying there at the hotel will make a special trip just to walk through the expertly manicured grounds. It was the kind of beautiful that you knew Bob Ross would paint because the trees there could only be described as happy. There were ponds, gazebos, statues, and even a giant chess set. I played against myself one morning and eventually, inevitably, both won and lost.
We spent that day wandering around the town below and discovered a wine festival in full swing.
The festival featured a lot of Riesling wines, which we were only slightly familiar with. So, we had a lot of "research" to do and we sampled as many glasses of wine as we could. We had always thought of Rieslings as sweeter wines but that's not always the case. We sampled several wineries and found many of them dry and very enjoyable. Then we sampled them again, just to make sure.
The next morning was my birthday so we asked for coffee and breakfast for two people to be delivered to our room.
What we got was breakfast for seven people and some coffee. "There's too much food" is something I've never said. So, we feasted on the balcony with the castle tower to one side of us and the Rhine river below. I was the happiest nerd in Germany that morning.
Wine on the Rhine
This line is not one of those multi-night cruise lines, where each person has their own room, it's more like a ferry boat or local water taxi; it stops at many towns along the route, maybe every 15 minutes or so. We purchased tickets at the KD Line counter at the Oberwesel KD pier. We rode the boat from Oberwesel to Rüdesheim. We sat downstairs (inside) for the northbound trip, and outside for the southbound trip. the outside seats allow you to see so much more of both sides of the river, but the inside is climate controlled, and closer to the food and drink concession. Along the way north, we purchased several delicious glasses of local wine and beer from the boat's bar.
We continued on the Rhine, making our way to Rüdesheim.
Our first stop was to the famous and charming Drosselgasse which is a historic alley located in the old town. The street is filled with German restaurants, beer gardens and kitschy souvenir shops. We came on something we recognized from Josh Gates' travel video, baumstriezel, or chimney cakes! They have different names in different countries or regions, but are basically dough, rolled onto a cylinder and baked with different flavored toppings. It comes hot, soft on the inside, and crunchy on the outside. Oh sweet buttery baby goodness!
Birthday Dinner
We were seated at a romantically isolated table overlooking the valley below as we settled in for a five-course meal with wine pairing. After attending a wine festival all day, the wine pairing probably wasn't a great idea but it was my birthday so we dumped that fuel on the fire and had ourselves a lovely meal. We weren't driving home and stairs are much more fun when you're drunk so we indulged. The food was incredible and since we weren't in a hurry, we took our time and made an evening of it. After all, what castle experience would be complete without a feast?
Call it a bucket list item, call in a life goal, hell call it a childhood fantasy come true. Staying at a castle was something that I had always dreamed of doing. That's what this trip to Oberwesel was about. That's what the decision to sell everything and travel the world is about. When you see an opportunity to do something you've always dreamed of, you have to figure out a way to do it. Life has no guarantees. Seize every opportunity and don't let the fear of unimportant consequences hold you back. You will always have the memory and no one can ever take that from you.
---
---